Mandy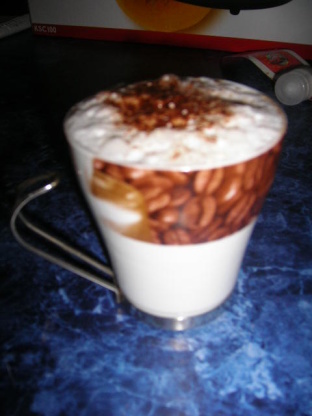 I just love cinnamon & coconut so thought I would mix the 2 and came up with this. This is a smooth tasting coffee, perfect for an afternoon pick me up. I used Cinnamon Syrup and Coconut Sugar Syrup for the syrups.

Fabulous drink here Mandy! I could not find the coconut syrup in my area so my local coffee shop made one for me (wasn't that nice?! ) It is a delicious blend of flavors. I love coconut and I love cinnamon but had not tasted a coffee drink with the two. I'm glad I did now. Wonderful treat for myself. I'm going to search some online sites and find that syrup and have it shipped to me so I can make this more often at home. Made for the Comfort Cafe event January 2009.
Put syrups into the bottom of a mug.
Foam & heat the milk.
Add the coffee to the syrups & mix well to combine.
Top with milk & milk froth & dust with cocoa powder.