Christiana Campbell's Tavern Saffron Rice Pilaf
NELady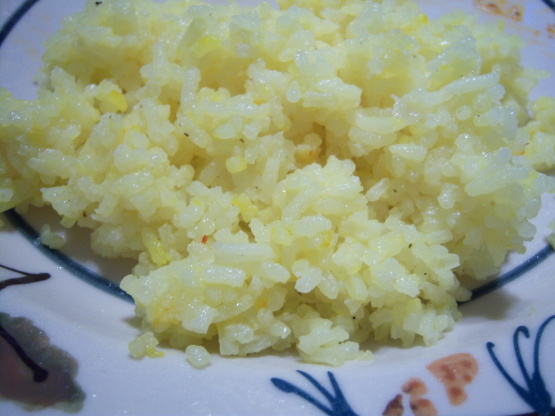 From The Colonial Williamsburg Tavern Cookbook, c. 2001. I add a tablespoon or two of minced onion when I add the rice. Also, I use about half the salt listed in the ingredients.

Wonderful flavor, wonderfully simple to do. Yes, saffron is the world's most expensive (and rare) spice, but the color and flavor it adds to the dish is superb. Next, time, I'll have to follow directions more carefully and really crush the saffron threads into a powder ... my fault, not the NELady's ... Photos will be posted to Cooking Photos Forum, link will be edited into this review. Made with Recipe #29448, both wonderful dishes. Both dishes were submitted for ZWT5, made for Groovy GastroGnomes.
In a colander under cold-running water, rinse the rice and transfer to a medium heavy saucepan with a tight-fitting lid. Pour in 2-1/2 cups cold water and bring to a boil over high heat. Reduce the heat to medium low, cover, and cook for 20 minutes. Remove the lid, fluff the rice with a fork, and add the butter, 1 teaspoon salt, and the saffron. Cover and let sit for 5 minutes. Season with more salt (if needed) and freshly ground black pepper before serving.