Chocolate Toffee Crunch Ice Cream Cake
haray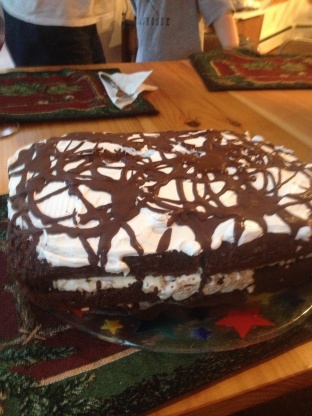 I was perusing the ice cream cake recipes here and couldn't find what I had in mind so I made this one up. At our house we use gluten free cake mix, lactose free ice cream, and sugar free Cool Whip so please feel free to adapt this recipe to meet your dietary needs. The cake ingredients included are for the gluten free mix I make. If your cake calls for more or less, eggs, water, or oil, make sure to use the necessary changes. Cook time is partly freezing time.

Top Review by TerriB
Loved this super easy recipe! I halved this recipe by making 1/2 box of cake mix in a round, 9" springform pan (I weighed the mix and used half, then used half the oil, water, and 2 eggs). After baking, I popped the sides off the pan, sliced the cake in half with a serrated knife, and put the sides back on. Then, I layered ice cream, toffee, and hot fudge topping in the middle before replacing the top. So quick to make and the whole family loved it. Thanks for such a simple, clear explanation!
Preheat oven to 350 degrees.
Combine cake mix, eggs, butter, and water.
Pour into a well greased 13x9 pan. Bake for 35-40 minutes or until a toothpick inserted in the center comes out clean.
Allow cake to cool completely.
When cake is fully cooled, using a serrated knife, cut cake in half lengthwise.
Place the bottom half of the cake back in the pan. Top with the softened ice cream, and spread it evenly over the cake. Sprinkle the toffee chips in an even layer over the ice cream. Place the top layer of the cake on the toffee chips/ice cream. Spread the softened Cool Whip over the top of the cake.
Freeze 2 or more hours before serving.