Chocolate-Dipped Snowballs
MeliBug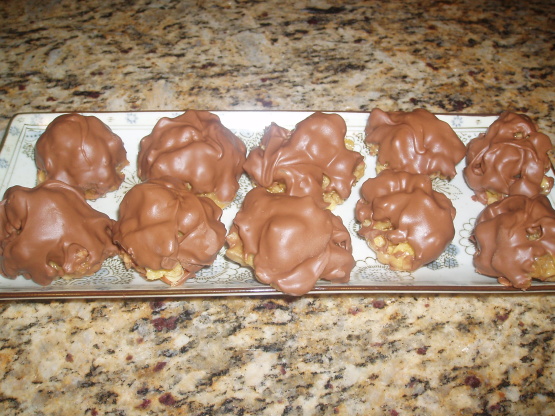 This recipe comes from the Holiday 2007 Kraft food and family issue. The 45 minutes includes refrigerating time also.
1⁄4 cup butter

1

(10 ounce) packagejet-puffed marshmallows

1

(7 ounce) containerbaker's dipping chocolate

5

cups post Honey Bunches of Oats cereal, with almonds
Melt butter in large saucepan on low heat.
Add marshmallows; cook for 5 minutes or until marshmallows are melted and mixture is well blended, stirring occasionally.
Remove from heat.
Stir in cereal.
Cool slightly.
Shape into 24 balls with moistened hands and place on wax paper-covered baking sheet.
Cool completely.
Heat dipping chocolate as directed on container.
Dip top of each ball in chocolate and return to baking sheet dipped side up.
Refrigerate for 15 mintutes or until chocolate is firm.
These taste great with any flavor of Post Honey bunches of oats.