Chocolate-Chunk Walnut Chewies
Karen..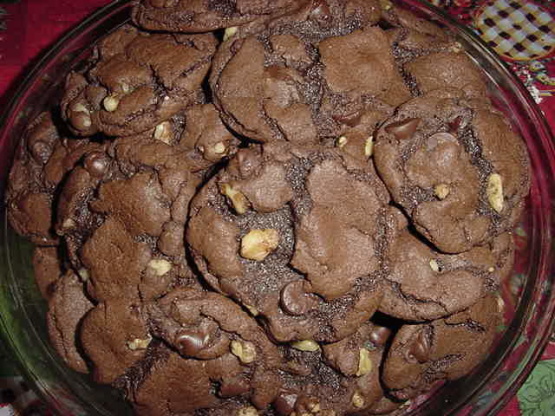 Brownies from a Devil's food cake mix. Easy and have plenty of recipe copies to give out. from May Washington Times
1

(18 ounce) package devil's food cake mix (cheap brand)
1⁄2 cup melted and cooled margarine
1⁄4 cup packed brown sugar

2

large eggs

2

teaspoons vanilla

1

cup semisweet chips
3⁄4 cup chopped walnuts (optional)
Place rack in center of preheated 350 degree oven.
(If you can't place both cookie sheets on center rack, you'll have to rotate them at the 5-minute mark).
On low speed, blend all but chocolate and nuts.
Batter will be thick but less thick than an actual cookie dough.
Add chocolate chips.
Nuts can be added or sprinkled on top.
Drop spoonfuls of dough on ungreased cookie sheet or use parchment paper.
Bake 10-12 minutes- cookie will still be soft in the center.
Important to allot time for cooling cookies two (2) minutes ON COOKIE SHEET.
They must cool at least 20 minutes before storage.