Cabnolen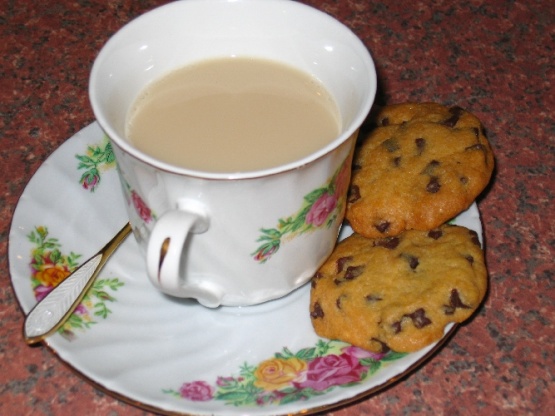 "Mary Bartz, resident cookie expert in the Betty Crocker Kitchens, is famous for these cookies." I found this recipe on a bag of flour over 15 years ago and have been using it ever since. I have adapted it over the years to fit our family; using real butter and 'milk' chocolate chips. It is the best chocolate chip cookie recipe that I have found yet.

I, too, found this recipe on the back of a bag of Gold Medal flour bag years ago, and it's been my favorite (sorry Mom). These taste best fresh; after a couple days I think they start to get stale. I use dark chocolate chips. I roll the dough into balls before baking. Also, since this makes so much, I've frozen the extra dough balls, then just defrost and bake as desired. (To freeze, roll dough into balls and set on flat pan in freezer. Once frozen, transfer into container/baggie.) WARNING -- If you or family members love cookie dough, the frozen dough balls will mysteriously disappear.
Heat oven to 350°.
Mix butter, sugars, vanilla and eggs in a large bowl.
Mix together, and stir in, flour, baking soda and salt.
Stir in chocolate chips.
Drop dough by rounded measuring tablespoonfuls about 2 inches apart onto ungreased cookie sheet.
Bake 12-15 minutes or until lightly browned.
Cool slightly; remove from cookie sheet.
Cool on a wire rack.
Just a note: I noticed that flat vented cookie sheets work best for even baking. I used dark coated, side-edged cookie sheets on some of the batches and was disappointed because the bottoms of the cookies baked faster than the top. I would think in that case, that lowering the temperature and keeping a good 'eye' on them would help if that is the kind of pans you have as well. ;) PS. The cookies in the photo were baked using flat, no-sided, vented cookie sheets.