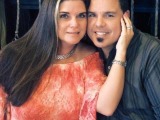 This drink is so yummy. It is not as thick as a milk shake, but almost. A wonderful, quick and easy dessert!
Directions
In a blender, process all the ingredients until they are just combined.
Pour into a chilled glass.
Serve immediately.
Reviews
Most Helpful
Chocolatey banana Goodness! A wonderful way to splurge. Thanks for the special treat Juenessa!

This had great flavor and consistency. We added a bit more chocolate ice cream so it had just a hint of banana, which for us is perfect. Since we used a strong chocolate ice cream we didn't use the syrup but will try again with vanilla. Thanks Junessa!!

I tagged this recipe incorrectly during a game play, then decided to make it anyway, 'cause I still had a lone banana! Well, I'm glad I did ~ it was great, & I'll keep the recipe on hand even though the specific items might change from time to time! This time around I made it with some homemade chocolate fudge & raspberry sauce, AND some Denali's Mother Lode vanilla ice cream [which has chocolate coated toffee nuggets & caramel in it]! Thanks for posting!