Chocolate and Almond Cookies
Linky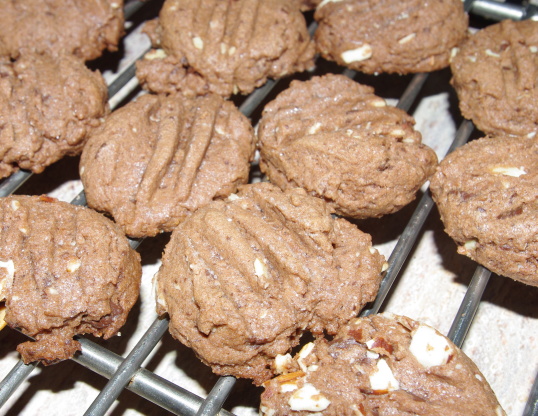 This cookie contains both cocoa and dark chocolate, with nibbed almonds added -- simple and just right to help fill the holiday cookie tins! Depending on how large or small you roll the little batter balls, you'll get between 35 and 45 cookies. If you cannot find the nibbed almonds, simply crush flaked almonds. I use a good-quality semi-sweet dark chocolate slab for this recipe, not choc chips. Not a very sweet cookie.

Top Review by Linky
Very tasty cookie (biscuit for some of you)! Because they are not overly sweet, the taste of the chocolate really comes through. I tried two pans, one with the paper and one just sprayed with non-stick spray; the non-stick pan was just as easy to remove the done cookies from; plus it was easier to get the fork smooshed into the cookie dough without the paper. Do not forget to dip fork in sugar before flattening each ball of dough. made for ZWT7 Count Dracula and his Hot Bites
2

cups flour (500 ml)
1⁄3 cup cocoa powder, unsweetened (the bitter powder, 80 ml)
1⁄2 teaspoon baking powder
1⁄2 teaspoon salt
1⁄2 cup superfine sugar (125 ml caster sugar)

8

ounces butter, soft (1 cup)

1

egg, large size

2

teaspoons vanilla essence

5

ounces chocolate, dark, semisweet, chopped quite fine (150 g)
1⁄2 cup almonds, nibbed (125 ml, or use flaked almonds, chopped)
Heat oven to 350 deg F / 180 deg. Celsius.
Line a cookie tin with baking paper. I find it easiest to grease the tin, flatten the baking paper over the grease, and lightly grease again.
In a large mixing bowl, sift together the flour, cocoa powder (unsweetened), baking powder and salt.
Put the superfine/caster sugar in another mixing bowl, add the butter, and whisk with an electric mixer until light and fluffy.
Add the egg and vanilla, and again whisk very well.
Mix the flour-cocoa mixture into the sugar-butter mixture. At first it might seem as if the batter needs more liquid: don't add anything!
Mix in the chopped chocolate and the almonds. Once everything is well mixed in (use your hands, it works well), the batter will be quite soft.
(If you find the batter too soft you can chill it in the fridge for 30 mins.).
Use roughly a tablespoon of batter per cookie, and roll into a ball. Put the balls on the prepared tin, and press flat with the tines of a fork.
Bake the cookies for 12 - 15 minutes, until the tops just start to make little cracks.
Cool slightly in the tin, before removing to a wire rack. Cool completely before storing in an airtight tin.