Chocolate Almond Nut Jobs
Annacia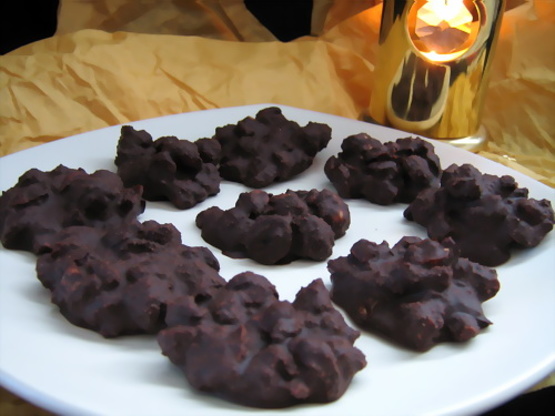 These are about the easiest candies you can make, and among the best, as long as you use very good nuts, perfectly toasted, and equally good chocolate. Prep time includes time to chill. From Room For Dessert.

Who knew that it was this easy to make nut clusters! Followed the directions with the exception of using hazelnuts in place of almonds. Like Engrossed I also got 18 in total. I'm thinking that we could have scooped a little smaller, lol. Thanks Bev for a wonderful holiday treat. Made for Comfort Cafe, Jan 09.
Preheat oven to 350 degrees.
Toast the almonds in the oven for 8-10 minutes, until they are lightly browned.
Allow them to cool completely, and then chop them coarsely.
Break up the chocolate and melt it in a bowl set over a pan of simmering water.
Make sure that the bowl you melt in the chocolate in is completely dry; if there's even a drop of water, the chocolate will"seize"- become stiff and granular- and it will be unusable.
Once the chocolate has melted, take the bowl off the heat and stir in the chopped nuts, completely coating them with chocolate.
Cover a baking sheet with parchment or plastic wrap.
Scoop out heaping teaspoons of the chocolate-nut mixture onto the sheet pan.
When done, refrigerate until ready to eat.
Makes 20-30 candies.