diner524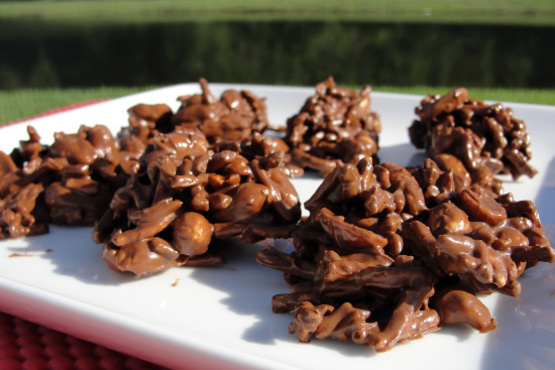 These are so easy to make and always a hit!

I am reviewing but not rating. The noodle bars were good just like I remember them back when I was young. The instructions were most confusing. It says 1 pkg (270 gr) of each chocolate chips and butterscotch. All of the pkgs in my town were 320g or 340g. I decided on 1/2 pkg. each kind of chips and followed the recipe exactly. There was so much chocolate/butterscotch chip dripping from the noodles/nuts that I finally ended up using over 3 cups noodles with plenty of chocolate still just sitting there begging more noodles or something.
270

g package milk chocolate chips

270

g package butterscotch chips

236.59

ml peanuts

236.59

ml chinese noodles, broken into smaller pieces
Melt chocolate and butterscotch chips together.
Stir in chinese noodles and peanuts.
Drop by spoonfuls on wax paper lined cookie sheet.
Let cool.
Store in airtight container in refrigerator.