Derf2440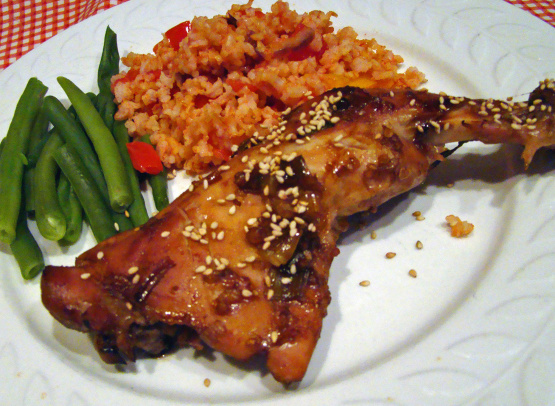 From WW Simply Delicious. Per serving: 172 calories, 3 g fat, 13 g carb, 52 mg cholesterol. Any easy low-cal dinner that my family liked.

pretty good, but kind of too sweet for our taste. I will cut off the sugar next time. Thank you for saring.
Line the bottom of a large baking pan/dish with foil.
Mix together the first 9 ingredients in a big bowl.
Add the chicken legs and toss to coat well.
Place the chicken legs in single layer in the baking pan.
Spoon any remaining sauce over the chicken.
Cover loosely with foil and bake in a 400° oven for 20 minutes.
Remove foil and continue to bake about 20 more minutes or until the chicken is browned and cooked through.
Sprinkle with sesame seeds and serve chicken with sauce.