Barb G.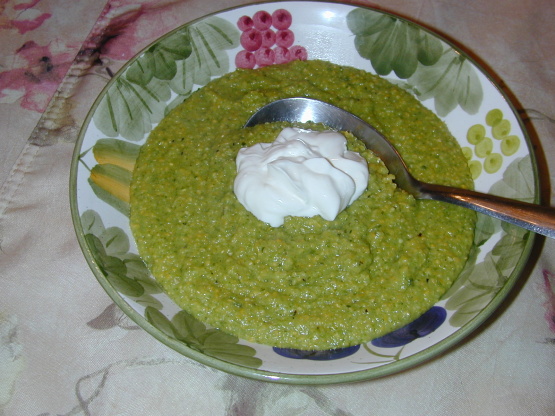 This is a great side dish to grilled meats. If you're unable to find the Mexican crema, you can use creme fraiche or sour cream. This recipe comes from the Manzanilla restaurant in Ensenada, Mexico.
Cut roasted, peeled chilies into thick slices; combine chili, water and whipping cream in a blender; blend until smooth.
Pour the mixture into a saucepan; heat to a boil; add the butter, salt and pepper.
Slowly stir in the polenta; turn the heat to low and cook, stirring, until the polenta grains have softened, about 3 minutes.
Serve with a dollop of the crema as a garnish.
Note: to roast chilies, hold with a fork over a gas flame to blacken skin on all sides; place in a paper bag or bowl covered with plastic wrap until cool; remove stem, skin and seeds.
You can also roast them over an outdoor grill.