Chilean-Style Hot Dogs With Avocado-Chili Relish
gailanng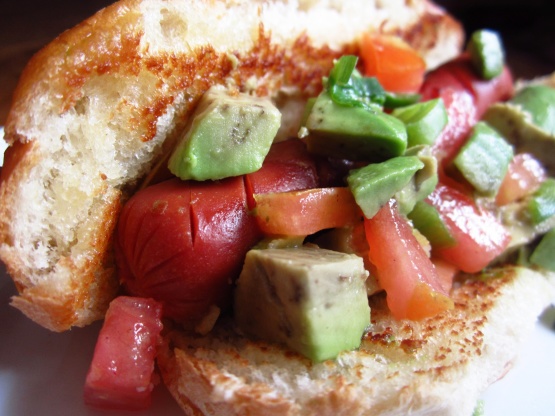 Food is a perfect way to connect us all. :) This recipe shows how you can get to know another country's culture in the comfort of your own backyard.;) Recipe by Nirmala Narine, who is founder of nirmalaskitchen.com and cookbook author.Beter Homes and Gardens Magazine, August 2010 edition.
AVOCADO-CHILI RELISH:.
In a bowl whisk together olive oil, cilantro, jalapenos, shallots, and lime juice.
Gently fold in tomatoes and avocados.
Sprinkle lightly with salt and pepper; set aside.
Prepare frankfurters as desired.- (We chose to grill them) over medium heat.
In a small bowl, mix the butter and garlic.
Spread butter mixture on the sub rolls.
In a large frying pan or on a grill rack over medium heat, place the rolls buttered side down and toast until light golden.
TO SERVE:.
Tuck frankfurters in toasted rolls and top with Avocado-Chili Relish. Serve immediately. Makes 4 to 6 servings.
*When working with hot chile peppers, wear plastic gloves or wash hands well after cutting; the peppers contain oil that may burn skin and eyes.