Ang11002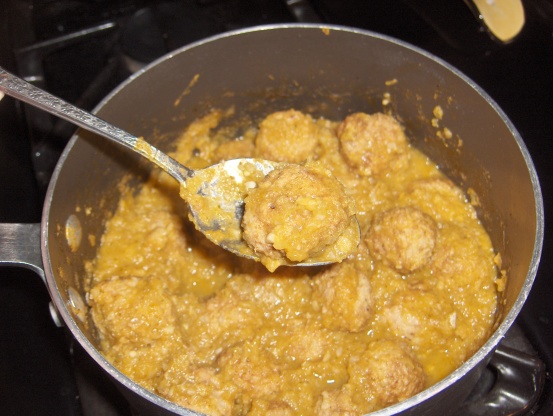 The combination of frozen meatballs and chile verde sauce was a very happy discovery... the results are absolutely delicious! (And they're almost ridiculously easy to prepare, too.) I plan on making these in the future for potlucks and as appetizers. This is another Pantry Challenge recipe, where I use items I already have at home to make meals.
I really intended to take a photo of this, but somehow it all just disappeared before I could get out the camera. I used home-made meatballs, and added about 1/4 cup of chopped green chiles, just because I wanted to use them up. These were super easy to make! However, next time I think I'll saute the onions and garlic first, just to give the sauce a bit more depth and complexity. I was looking for an alternative to the usual sauce for the meatballs, and this worked out great. Thanks for also helping me use up my jar of salsa verde - wouldn't want it to get old.
Into a large, heavy pot, add the onion, garlic, salsa verde, broth or beer, and the meatballs.
Simmer on low for 30 minutes, stirring occasionally; add the ground cumin and simmer for 15 minutes more.
Serve with sour cream for garnish, along with rice and beans and tortillas (the sauce goes nicely on other items, too).
Note: you can also make this in your crockpot on low for 4 hours, adding in the cumin in the last 30 minutes.