Bobtail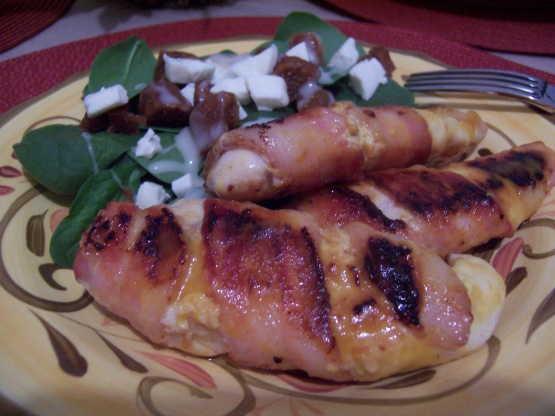 My friend Jeff's favorite way of doing chicken for our casual backyard get-togethers. Great with a green salad, rice, and grilled pineapple rings.

What a delicious recipe! I used chicken tenders as I keep these on hand and prepared the sauce as directed. It was raining today, so I used my grill pan and it worked perfectly. The bacon was done and the chicken was amazingly tender and moist. I loved the flavor of the basting sauce. This would be easy to adapt to bite size pieces and use as appetizers. Prepared in participation of My 3 Chefs. Thanks lizbits!
Combine mustard, pineapple juice, and brown sugar in a small bowl until sugar is dissolved.
Slice each chicken breast to create two evenly sized pieces from each breast.
Wrap each chicken breast with a slice of bacon, and secure with a small skewer or toothpicks.
Brush the mustard sauce over the bacon and the chicken.
Grill over hot coals about 10 minutes, turning frequently and brushing with additional sauce.
Remove chicken from grill when cooked through.
In a small saucepan, heat remaining sauce until boiling, then spoon over chicken to serve.