Chicken & Sausage: Justin Wilson Style
pammyowl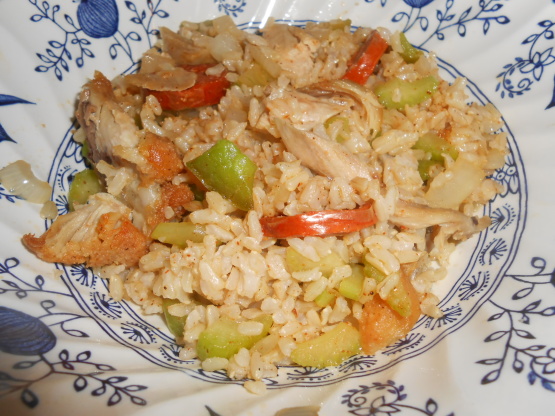 "Woooo-weeee"!!! (You would have to know him). Very simple to make and easy to freeze (before final cooking), to make for an extremely quick and delicious dinner. You will love it!!! As Justin would say... "I Garrrronnnnntteee It"!!! (You would have to know him). Enjoy! Edited: One reviewer suggested cutting the rice down to 3 cups and the chicken broth down to 6 cups... I would tend to agree, so the recipe has been updated. I just make batches upon batches of this to serve to roughly 50+ people at a time, either to take to the local home-less men that stay in the church basement once a week in town, or to our county's battered women & childrens shelter. So yes, I guess I do feed a lot of "starving students", and I am kinda stingy with the meats (I'm not rich). So you can use a 8 cup broth to 4 cup rice ratio, if need be. So just use your own judgement call on the amounts you decide to use. Great thanks to everyone who have tried this.

We enjoyed this jambalaya-style chicken and sausage. I scaled the recipe back to 2 servings -- as it's just me and DH. Even though the recipe was from Justin Wilson, I have to say that I missed having some crushed tomatoes and/or tomato paste which may not be conventional, but none-the-less they are ingredients that we generally add to this type of dish. I also added less cayenne as I used a spicy sausage. Made for PRMR, March, 2013.
Heat 2 Tblsp of vegetable oil in a large, deep skillet or small dutch oven.
Add the cubed chicken, sprinkled with Cajun seasoning, and brown it until almost cooked thru, then add sliced smoked sausage (its pre-cooked).
Add the sliced onions, green bell peppers (I sometimes use a mix of green and red, depending what I have on hand), and celery (if using) and saute for 2 minutes.
Add the rice, chicken broth, salt, cayenne pepper (and any additional Cajun seasoning to taste).
Bring to a low boil, reduce heat to a low simmer and cover. (Extra broth may be needed toward the end of cooking).
Simmer for approx 20 minutes, or until rice is tender.
Stir once thru-out cooking time, but keep lid closed and make sure not to scorch the bottom).
Check for done-ness by tasting it! If the rice is cooked and the chicken isn't pink on the inside, it's done.
Sprinkle on a little fresh, chopped parsley and a pinch of "Gumbo File" after plating, (if desired). Serve and enjoy!