Chicken Satay Goes to Rio
ImPat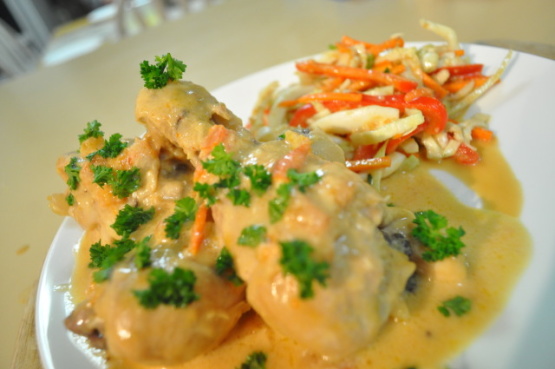 This is my third attempt at a main dish recipe for RSC#9. My tasters gave the other two recipes four stars. This one got five. It has been inspired by recipes from Brazil and Malaysia. There are a lot of ingredients and steps, but it really is a chop-it-up and throw-together dish. You can make it without the palm oil. This ingredient is common in northern Brazil. It gives food a special flavour and colour. There is no substitute. You can find it in markets that specialise in Brazilian imports. The recipe works without it (I tried it that way on purpose), but if you can get it, palm oil is a wonderful addition. UPDATE: Many thanks to those who reviewed this for RSC#9. Soon after posting it, I realised I forgot to mention the lemon juice. Oops! It's here now and I hope you still like it both ways. :-)

Top Review by ImPat
Just oh so yum, I used 8 chicken drumsticks (for 3 of us but had 2 left over - the meat for sandwiches) and served with recipe #479907 by Nancy's Pantry but was wishing I had served rice as well to soak up all those lovely sauces but I had to go low carb so not an option tonight but will truly try to make it an option on another night, the sauce is to die for and the chicken was fall of the bone and tender, my drumsticks took 35 minutes on the initial cook with lid on and the 10 with lid off on a slow burble/simmer. The only change I made was I didn't use the palm oil and as I don't care for coriander/cilantro I use freshly picked parsley from the garden (something recommend by good chef/bad chef Janelle). Thank you Leggy Peggy, made for Aussie/Kiwi Recipe Swap #65 June 2012 and team mate Leggy Peggy.
2

tablespoons vegetable oil

2

medium white onions, chopped

4

garlic cloves, peeled and crushed

4

medium tomatoes, chopped

2

tablespoons soy sauce

2

tablespoons peanut butter

2

(13 1/2 ounce) cans coconut milk

2

bunches fresh cilantro (about 2.5 ounces per bunch, separate the leaves and the roots)
1⁄4 cup chili-garlic sauce, Lee Kum Kee (or to taste)

2

lemons, juice of, only
1⁄2-1 teaspoon salt (to taste)

1

(3 -4 lb) whole chickens

2 -3

tablespoons palm oil (azeite de dendÃ) (optional)
Heat the vegetable oil in a pan that will hold all the ingredients. A 4-quart Dutch oven is good.
Saute chopped onions and crushed garlic in the hot oil until onion is translucent.
Add the chopped tomatoes, soy sauce, peanut butter, coconut milk and stems of the cilantro (slightly bruised by hitting them with the flat side of a knife) (Hint: tie stems together with string so it is easy to remove them later on).
Add one tablespoon of the palm oil if you are using it.
Stir well and bring to a boil. Allow to boil for 3-5 minutes.
Reduce heat and cook down for 15-20 minutes.
Remove cilantro stems.
Add chili garlic sauce (this is an important ingredient), lemon juice, salt, chicken pieces and last two tablespoons of palm oil.
Bring to a boil, then reduce to a simmer and cover. Cook for 30-40 minutes or until chicken pieces are done. Stir occasionally. Cook uncovered for the last 10 minutes.
Garnish with chopped cilantro leaves and serve over steamed rice.
Corn cobs are a nice side dish.