Chicken Salad With Peanut Butter Dressing
Nif_H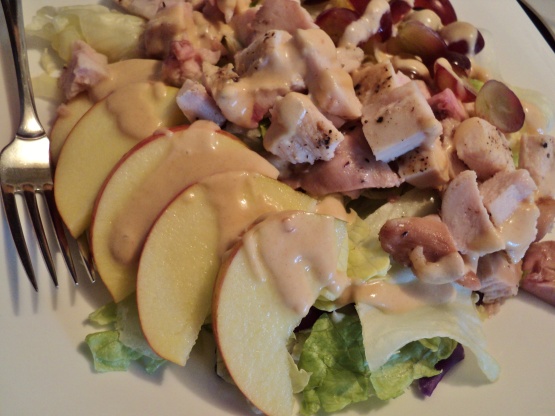 From the Publix Family Style magazine. You can make this salad by roasting your own whole chicken, or make it super easy by using a deli rotisserie chicken.

Top Review by Nif_H
What a great dinner this made! I had a mixed salad on hand but think that the suggested Romaine would have been better. Chicken breasts and thighs, red grapes and Lady Alice apples rounded off the salad and the dressing was wonderful! Made for my adopted chef for Spring 2012 PAC. Thanks Kellen's mum! :)
On six salad plates arrange romaine, chicken, aplles, and grapes.
In a small bowl whisk together water, peanut butter, soy sauce, honey, vinegar, ginger, and crushed red pepper.
Drizzle peanut butter mixture over arranged salads.