IngridH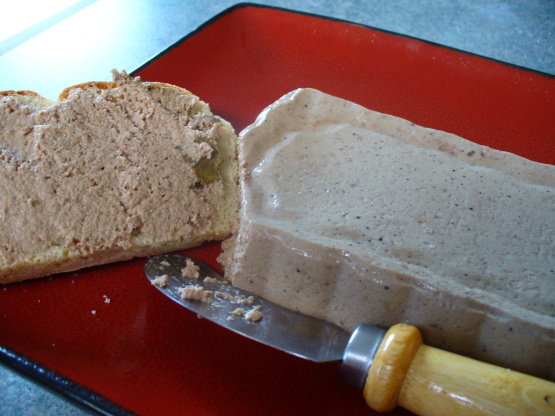 Yummy rustic chicken liver pate. Serve warm with little cornichons and toasted bread and salad.

This is a very nice, very easy to make pate. I cut the recipe in half, as I'm the only one in the house that likes it, and used a very small loaf pan to bake it in. The cooking time was perfect. I used cognac, as I didn't have any port on hand; while it's good, I think I'll use port the next time. I loved how easy this was to put together, and that it isn't as full of fat as the other recipe I make. I haven't tried freezing yet, but this made enough that I definitely will. Made for PAC, Spring 2010.
Blend everything except the milk in a food processor. Pour into bowl and add the milk. Bake in ramekins in bain marie for 1-1 1/2 hour at 300F convection until set as a loaf. Serve warm. Can be frozen.