Chicken Fried Steak With Mushroom Gravy
lazyme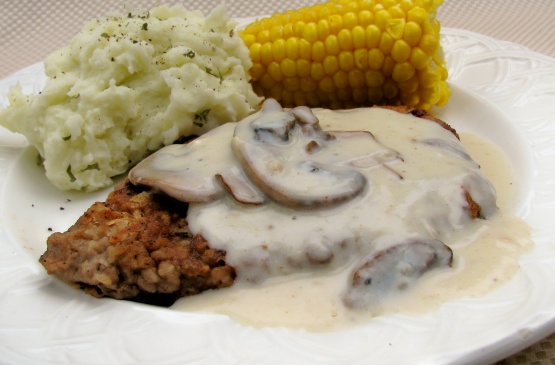 The BEST chicken fried steak ever! I use this method for frying chicken as well, Enjoy with some veggies and fluffy mashed potatoes.

This was absolutely delicious! Chicken Fried Steak is one of my husband's favorite meals, and he devoured this! I cut the flour and breadcrumbs in 1/2 and had plenty to cover 4 steaks. The fresh mushrooms gave the dish a great flavor boost. The gravy was super! Thanks for a great recipe! Will make this again!
4

cube steaks
salt and pepper

1

cup flour

1

cup Italian seasoned breadcrumbs

1

dash paprika

1

tablespoon seasoned garlic salt
1⁄3 cup grated parmesan cheese

1

package fresh sliced mushroom

2 -3

tablespoons flour

3

cups milk (depending on amount of gravy desired)
Mix flour, breadcrumbs, parmesean cheese, and seasonings in a bowl.
Dip steaks into a small amount of milk and then dredge in the flour mixture.
Place 3-4 tablespoons of olive oil in frying pan over medium-high heat.
Cook steaks for 5 minutes on one side (cooking time depends on thickness of steak).
The juices from the steak might soak up the flour, so before you flip the steaks add some more of the flour mixture, patting it down with a spatula.
When brown, flip over and continue to cook for another 3 mintues (again cooking time varies).
When finished cooking, remove steaks and keep warm.
FOR GRAVY:.
Once steaks are finished cooking add a small amount of oil (most of oil, if not all, will have been used in cooking the steaks) and cook the mushrooms.
Add 1/4 water, salt&pepper, and continue cooking.
Make sure to get all of the scraps from the sides of the pan that the steaks left into the liquid you are cooking the mushrooms in.
When most of liquid is cooked off, sprinkle remaining flour over mushrooms and cook for 1 minute.
Add milk and cook until thickened to your liking.
Serve with mashed potatoes and enjoy!