Chicken Enchiladas (Green Chili)
giodadlv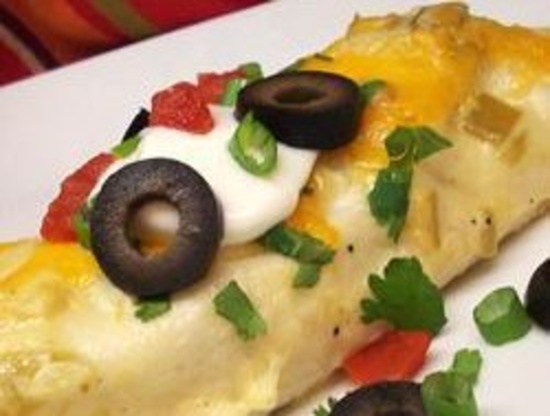 Famous chicken enchiladas. I created this recipe cause i liked the taste of flour tortillas verses corn.

These enchiladas were wonderful! I made them exactly as written and we enjoyed them so very much. My husband said they were "quite tasty" and that they were a "keeper". Thank you for posting them.
Boil the chicken!
shred the chicken and let it cool.
chop some green onions.
mixture!
in a large bowl mix WELL the 16oz bag of cheese.
16oz tub of sour creme.
a handfull of green onions.
the shredded chicken.
and the garlic powder.
use a 9x13 glass pan.
coat the bottom of your pan with sauce.
pour some sauce on a dinner plate.
dip a tortilla in the plate of sauce and place in your glass pan put in some of your mixture and roll it and continue till your pan is full.
pour more sauce over the whole thing add the other bag of shredded cheese on top and more green onions and black olives for garnish.