Chicken and Mushroom Casserole II
Parsley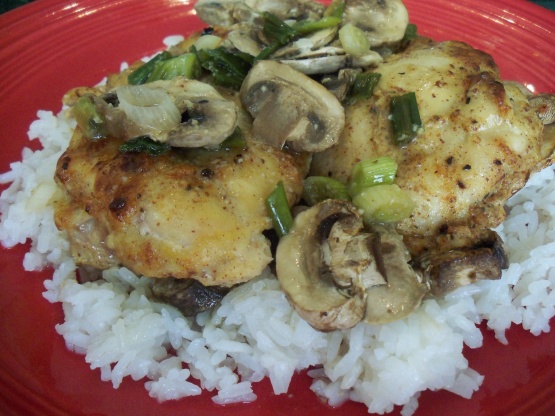 This is a great 'after work' meal for two people. I've been experimenting with meals for 2 since we'll be 'empty nesters' in the Fall. This is very tasty over steamed white rice with a green salad on the side.
Really easy for a non-cook like myself. I had to use a regular onion instead of green onion, because I didn't have them and I also used skinless chicken, but it came out great. My family ate my cooking and my husband packed the leftovers for lunch tomorrow!
Heat oven to 400°. Stir together the mustard and olive oil; rub mixture on chicken pieces. Season chicken with 1/2 teaspoons of the salt and pepper to taste; set aside.
Toss together mushrooms, garlic and green onions in a 2-quart shallow baking dish. Top with the chicken, skin side up. Bake until the chicken is nearly cooked, about 25 minutes. Turn oven to broil on high; place chicken under broiler. Cook until the skin browns and crisps, about 5 minutes.
Transfer the chicken and mushrooms to a serving platter or individual plates (with piles of steamed white rice); spoon cooking juices over.