Bergy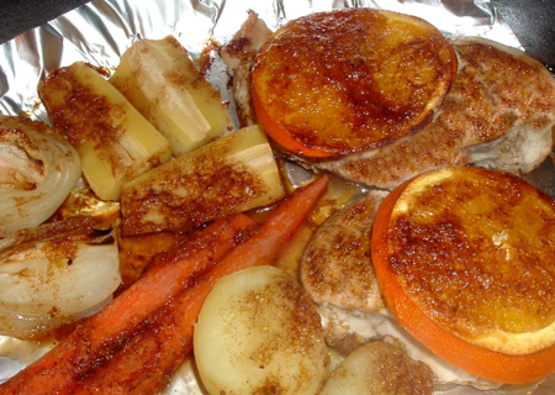 ------This is a gourmet do ahead dinner all in one dish. All the work is in the AM, pop it in the oven 45 minutes before dinner and wait for the raves. Your choice of vegetables may vary. I like to work in a green vegetable like peas, green beans or broccoli - they do not require any precooking just pop them into the baking dish with the other partially cooked vegetables and the chicken when you are 45 minutes away from dinner!------I have changed the chicken to 4 breasts from one chicken quartered as originally posted
Partially cook the carrots, potato, & parsnips- cook them in boiling water for approx 8 minutes. The vegetables should only be half cooked.
Cut 4 slices of orange, cross wise, from one of the oranges, rind on. Use the remainder of this orange to add to the juice.
Cut the second orange in half and squeeze the juice so the combined juice will be approx 3/4 cup of orange juice.You may requjire an additional orange depemding on how juicy your oranges are.
Add the brown sugar and cinnamon to the orange juice, mix well.
Place the chicken in a large oven proof dish allowing enough room for the vegetables to be in one layer.
Surround the chicken with the partially cooked vegetables and the onions.
Season with Salt & Pepper.
You may now cover it and place in the fridge until 1 hour before.
dinner (allow 15 minutes for the dish to get to room temp) or if you did not make it as a "Do ahead" recipe continue on.
Stir the orange juice mixture well and pour 3/4 of it over the chicken & vegetables.
Pop your dish into a preheated 375f oven, rack set in the middle of the oven, for 25 minutes.
Remove from oven, place a slice of orange on each chicken piece, pour the remaining Orange juice mixture over the orange & chicken pieces.
Bake for an additional 12-15 minutes. Check Chicken temperature it should be at 175°F to 180°F Check drumstick/thigh quarters.
Drizzle the Grand Marnier over the chicken & vegetables - return to oven for 3 minutes.
You are ready to serve - I hope it pleases you.