Chef Michael Smith Bread Pudding
Leslie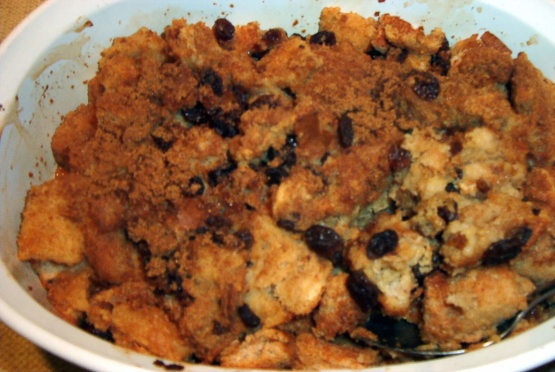 Great soothing recipe for bread pudding. Warm and gooey, the perfect desert.

This was pretty good! I used a from scratch French bread loaf that I cubed and toasted. I left out the raisins and added cinnamon to the egg mixture. My major change was to use soy milk, for the kiddies, who can't have milk. I also had no coarse sugar so I left it out. This took a bit longer to cook, but it was worth the wait. I served this with a praline syrup off this site.
Preheat oven to 350 degrees.
Wisk together milk, eggs, brown sugar, spices, and vanilla.
Toss in bread and rasins.
Pour into a 9" by 9" ovenproof casserole dish, sprinkle with coarse sugar and bake for 30 minutes until eggs are set, and the top is golden brown.