Cheesy Spaghetti Corn Casserole
Parsley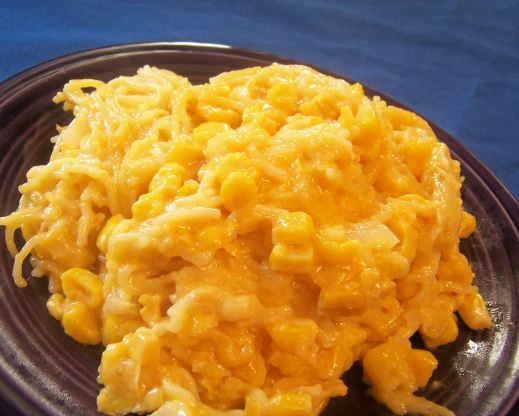 This is a simply delicious joiner to any meal. Perfect to take to family gatherings, as well. Will be the hit of the night. People will be asking you for the recipe!!! All I can say to describe it is DELICIOUS!

I originally got this recipe from my boyfriend's mom awhile back and I LOVE IT!! However, the recipe she gave me substituted 1 cup of velveeta in place of the cheddar and it gives it more of a creamy, smooth consistancy. At first I was a bit reluctant since the recipe sounds a bit different. But I'm glad I did because now it will be passed on for generations. You must try this--if not, your tastebuds will never forgive you!
Preheat oven to 350°F.
Mix both cans of corn and 1 1/2 cup of cheese in a casserole dish.and the milk
Break spaghetti into 1/4's and mix into mixture.
Gently pat down so no spaghetti noodles are poking out.
Sprinkle the remaining cheese over mixture.
Pour margarine over mixture in a circular motion.
Put foil over the top and put in oven for 1 hour.
Take out of oven and stir.
ENJOY!