Cheesy Pepperoni Parmesan Pizza
Hunts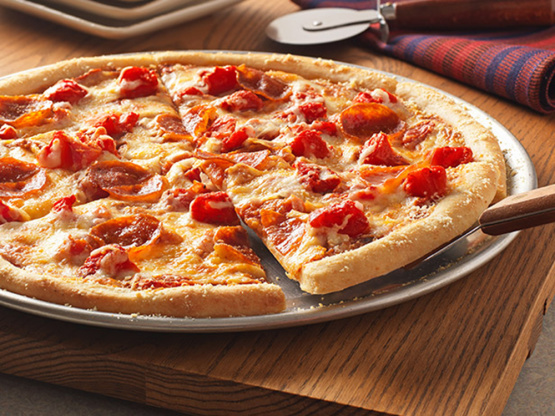 What do you get when you combine Hunt's® 100% natural tomatoes with Kraft® 100% grated Parmesan cheese? Dinner that's 100% delicious. Bring flavor to your table with this carefully crafted recipe.
1182.95

ml all-purpose flour, divided

236.59

ml Kraft® Grated Parmesan Cheese

4.92

ml dry yeast, fast-rising

2.46

ml salt

473.18

ml cold water

59.14

ml olive oil

118.29

ml Hunt's® Tomato Sauce with Basil, Garlic and Oregano

411.06

g can Hunt's® Diced Tomatoes, drained

473.18

ml Kraft® Shredded Mozzarella Cheese

10

slice Oscar Mayer® Pepperoni

14.79

ml Kraft® Grated Parmesan Cheese
Mix 4 cups flour, 1 cup Parmesan, yeast and salt in large bowl. Add water and oil; stir until mixture forms soft dough. Knead on lightly floured surface 5 minutes or until smooth and elastic, gradually adding remaining flour.
Cut dough into 4 pieces. (Each piece is enough for a 12-inch pizza.) Spray 1 dough piece with cooking spray; cover loosely with plastic wrap. Let stand 15 minutes. See tip for how to store remaining dough for another use.
TO MAKE ONE PIZZA: Heat oven to 400°F Roll 1 dough piece (after standing 15 minutes) into 12-inch round on lightly floured surface; place on pizza pan. Bake 6 minutes. Top with tomato sauce, drained tomatoes, mozzarella, pepperoni and 1 tablespoon Parmesan.
Bake 15 minutes or until mozzarella is melted and edge of crust is golden brown. Cut pizza into 6 slices.