Cheesy Cauliflower Casserole
Annacia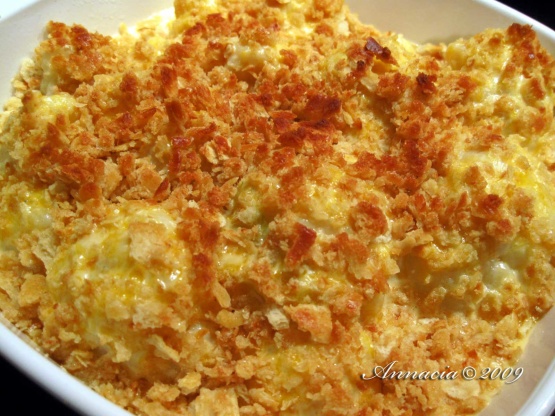 This casserole has NO cream of anything kind of soup. It still is probably loaded with fat but could be lightened by using low-fat or no-fat products (I have not done this). I like it because it is quick and easy and only has 6 ingredients...plus my boys will eat it.

Oh My Gosh, this is so good even my DS ask for the recipe! I used fat free evap milk and low fat mayo but, since it was Christmas, good quality full fat cheddar. It was also simple to do this recipe in stages. I steamed the cauliflower in the afternoon, a little later made the cheese sauce and set it aside and at some point during a lull in the cooking I made the cracker topping. Once the turkey was out of the oven and standing I boosted the oven to broil I warmed the cauliflower and sauce in the microwave and then added the crackers. Popped it under the broiler while DH was carving. It garnered praise from all of us. I enjoyed it much more than the turkey and I suspect that the gents did too but were afraid that it would reflect badly on their manhood to admit to liking a veggie more than roast bird. Anyway, this is rich and satiny and simply delicious. Made for Photo Tag.
Preheat your oven's broiler.
Combine saltine crackers and butter in small bowl, mash until soft. Set aside.
Place steamed cauliflower into a 9 x 13 inch casserole dish.
In a small saucepan, combine milk and mayonnaise with whisk.
Bring mixture to a boil; boil for 1 minute.
Remove the pan from heat and stir in cheese until melted.
Pour over cauliflower.
Crumble cracker mixture over cauliflower.
Broil until golden brown.