ImPat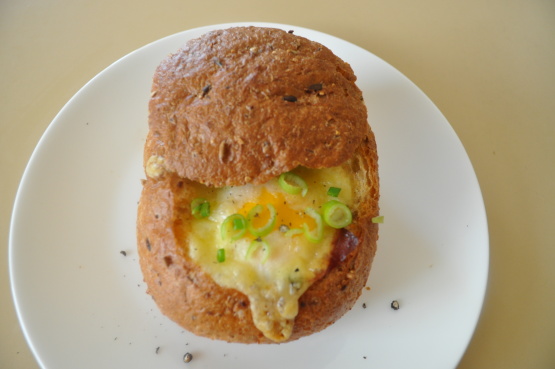 Ohh this makes for an such and easy breakfast! I suppose cheddar could be used instead of Colby, but Colby seems to melt a little better!

Top Review by ImPat
Made this for lunch and scaled back for 3 and we all thoroughly enjoyed, though it wasn't till I went to fill the rolls that I realised I had used the 4 serve recipe quantities for the mushroom/spinach filling). I used a smoky ham and sharp vintage cheddar. For some reason don't know why but I put the spring onion in the mushrooms oh well it still tasted great. I baked at 165 fan forced oven for 12 minutes and got a firm egg set which the DM and DS prefer for me though I would cook for a little less for a runny yolk. I also baked the lids which gave a nice crisp top (my idea was to use it as dipping vessel into the runny yolk, also next time I would also toast some of the chunky bits of bread to use as a dipper as well). Thanks Tisme, made for Make My Recipes Edition 11.
Heat the oil in a frypan and saute the mushrooms for about 3-5 minutes or until softened, then stir in the spinach and allow to wilt and set aside mushroom mixtue.
Cut the top 1/4 off each roll and hollow out the roll, being careful not to break roll, and leave a 2cm thick crust. Reserve the tops and crumbs for another use. (Maybe breadcrumbs.).
Place the rolls on a baking tray then fold and lay a slice of ham in each roll, then divide 1/2 a cup of the cheese (leaving a 1/4 cup cheese) between each roll. Divide the mushroom mixture between the rolls, crack an egg into each roll and sprinkle over the remaining 1/4 cup cheese.
Bake rolls in a moderate oven 180oC for 10-12 minutes or until the egg is cooked.
Sprinkle with pepper and top with finely chopped spring onions and serve immediately.