Debbwl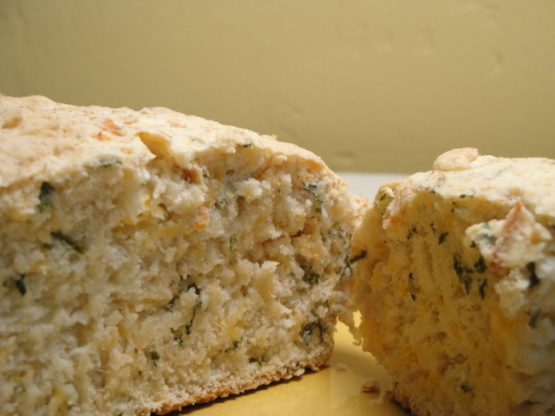 Good Aussie Tucker Mate! I use this recipe all the time and it always comes up trumps! Damper is so versatile it is so nice served spread with butter on a cold night to serve with a bowl of steaming hot soup, or with casseroles or with salads in summer. It is great served with antipasto or dips on a platter or even great to take on picnics, to serve with anything you like. For something delcious try whipping up a batch of Mustard and Honey Butter ( for Damper ) this butter goes so well with this damper and is so delicious.

Top Review by Debbwl
Yummy! Loved the herbs and cheese baked into this wonder easy to make bread. And don't leave out the mustard as it just seems to pull it all together. Made as written using fat free cheese and for the herbs used chives, thyme and parsley. Also made Recipe #283917 which is the perfect spread for this wonderful bread. Thanks so much for the post.
Preheat oven to 180°C Line a baking tray with baking paper. Place flour, mustard, pinch of salt/pepper and butter in a food processor. Process until mixture resembles fine breadcrumbs. Transfer to a large bowl.
Stir in cheese and herbs. Make a well in the centre. Add milk and mix with a flat-bladed knife until mixture comes together, adding more milk if required. Take care not to overmix or damper will be tough.
Turn out dough onto a lightly floured surface. Knead until smooth. Shape into a 15cm disc.
Place on baking tray. Using a knife, score lines about 1cm deep on top of damper to divide into 6. Dust top with flour.
Bake for 30 minutes or until a skewer inserted into the centre comes out clean.
Cut hot damper into 6 wedges and serve with butter or Recipe#283917.