Cavatelli Salad With Artichokes and Goat Cheese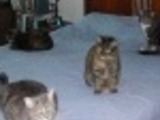 Oustanding combination of vegetables, herbs and cheese; they complement each other perfectly. Would make a great vegetarian summer (or anytime) one-dish meal. I found this recipe on-line when searching for artichoke recipes (hey, you can never have too many good ones). Then I tweaked a little to improve it.
Directions
Cook pasta in a large pot of boiling water until al dente (or according to package directions). Drain in a colander and rinse under cold water.
Whisk together oil and vinegar in a small bowl. Pour over pasta and toss to coat.
Add tomatoes, artichokes, olives, green onions, garlic and basil. Toss to coat. Season generously with salt and pepper (or to taste).
Add goat cheese and mix gently until melted. Serve immediately or at room temperature.
Most Helpful
this is delicious! i love goat cheese and it tastes so good in this. and it's so simple to make! thanks for posting.
Very yummy! I left out the green onions, but, otherwise, a perfect combination of all our favorite ingredients!

We loved this as a change of pace in the lunch brown bag. The flavors meld with time, so it's like a differnt lunch from one day to the next. We loved the creamy texture and pungent flavor the goat cheese added to an otherwise average pasta salad. This one's a keeper. Thanks for posting!