Cat Cora's To-Die-For Garlic Mashed Potatoes
Prep 30 mins
Cook 15 mins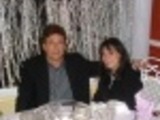 Extra rich, extra creamy and totally irresistible!
Directions
Put a large pot of water on to boil and add 2 t. of the salt. Peel the potatoes and cut them into 1-inch cubes. When the water is boiling, add the potatoes and cook 10 to 15 minutes, or until fork-tender.
While the potatoes are cooking, heat 8 T. of butter in a medium skillet. When the butter is melted, add the garlic. Cook over low heat just until the garlic starts to color. Do not burn the butter. Take the pan off the heat and set aside to cool.
When the potatoes are easily pierced with a fork, drain them and return them to the pot - the residual heat will help the excess water evaporate. Mash the potatoes with a potato masher or a ricer. Gradually add the milk and cream while mashing until the potatoes are the desired consistency. Stir in the garlic mixture, add the remaining 1 t. salt, and serve warm with the remaining 4 T. butter and the ground black pepper on the table.
Most Helpful
Excellent potatoes. Love the amount of garlic used too. The flavor really comes through for us garlic lovers.~
Simple and good. Thanks Jackie for another keeper. Made for 123 Hits tag.

Mmmmmmmm. I made just enough for two using 1 med-lg potato. I used 2 Tbsp of butter (at the most) and 1/4 cup of fat free liquid coffee creamer for the rich taste. I really wanted to try this method but *had* to trim the fat for health reasons. For us it worked perfectly and we had the best of both worlds with a rich tasting and very creamy mashed spud with a beautiful waft and taste of garlic adding so much. I didn't use the black pepper as we don't care for it in mashed potatoes.