Cashew Filled Phyllo Cigars
Rita1652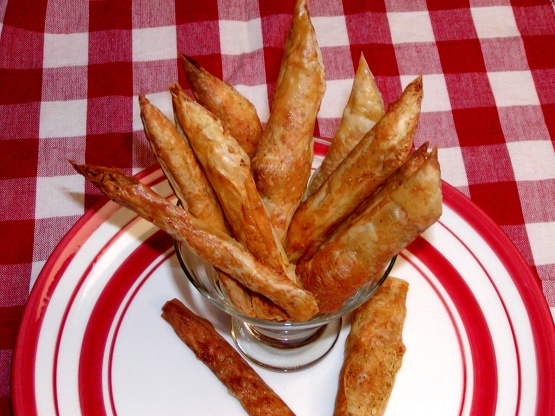 This may look hard to make but is an easy appetizer lightly filled with spices and cashews. Serve as an appetizer, accompaniment to a salad or as a replacement for breadsticks.

I have been intrigued by this recipe ever since I spotted it among the RSC entries. I finally had an opportunity to make it today to serve with a salad & cup of soup. I must say I had some problems with the recipe. First coriander seeds are listed twice in the ingredient list. Then the curry powder isn't mentioned in the instructions. I also found step #7 a little confusing. I followed the ingredient list only using the coriander seeds once & did add the curry powder. My biggest problem was in rolling these babies up...the phyllo tended to tear easily. After the first two, I started using two sheets brushed with butter per cigar. They were much easier to roll & I actually preferred the crunchiness of them to the ones only having one sheet of phyllo. They are unusual & I think by adjusting the spices slightly, something I would really like. I think the spice combos one could come up with are endless. I will look forward to experimenting & matching to different menus. Thank you for sparking my imagination & I compliment you on an interesting contest idea.
Preheat oven to 400 degrees.
Pan roast cashews and coriander seed just to release aroma, cool and crush.
Place in bowl with basil, and garlic salt.
Whisk oil, butter and egg white together set aside.
Lay one phyllo sheet short side toward you.
Brush oil mixture over surface and sprinkle 1 1/2 teaspoons over the sheet.
Fold sheet down toward you, brush oil mixture and sprinkle 1 teaspoon over folded sheet.
Roll sheet into a cigar shape.
Place on a parchment lined cookie sheet pan.
Brush cigar with oil and slice in half on a slight angle.
Repeat with remaining sheets.
Bake for 8 minutes till golden brown.