Rita1652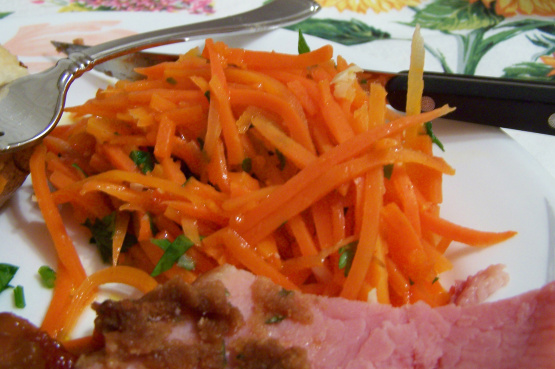 Source: Anne Lindsay's New Light Cooking An easy way to perk up carrots.

Easy! Used fresh basil from our CSA box and also used a fresh bunch of small organic carrots which were steamed whole. Very sweet carrots with the intense flavor of fresh basil. I did not stir the herbs into the mixture but also garnished on top. Very little salt and freshly grated black pepper. Reviewed for Veg Tag/May.
Combine carrots, water, oil and half of garlic in heavy saucepan.
Cover and simmer over medium-low heat for 14 minutes or until carrots are tender-crisp.
Stir in parsley, basil, remaining garlic, salt & pepper.
Cover and cook 5 minutes or until carrots are tender.