Carries Macaroni and Cheese With Ham
FrenchBunny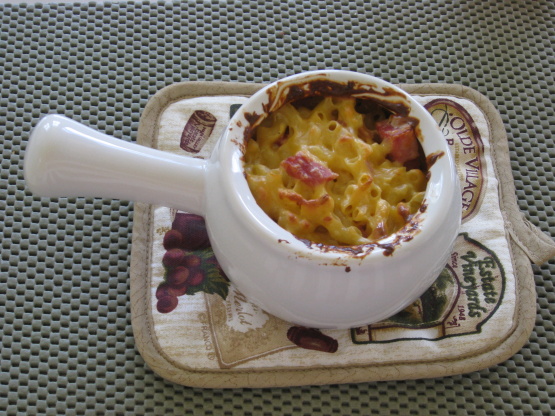 Delicious, cheesy, yummy goodness. You can eat it right away, or bake it to get a crispy top, your choice. Cooking the onions with the pasta distributes the flavor. Give it a try. I did this as a pantry challenge, I had the stuff and threw it together!

A very good and easy recipe. I cut the recipe in half and like Bergy I added some jalapeno and red pepper flakes but also I added a few frozen peas at the end for color and baked it for about 15-20 minutes. Made for Think Pink Oct'09 Breast Awareness Month.
Cook macaroni according to package directions, adding the diced onion when you put the dry pasta into the boiling water. Drain and rinse.
While pasta is draining, melt Margarine in the pot and then add the flour, garlic powder & salt. Stir constantly until thick and turning a dark butter color.
Add the milk and stir until it starts to thicken, then slowly, a bit at a time, add the cheese, stirring constantly. When everything is melted together and smooth, add the macaroni and ham in and mix well.
Serve OR Bake in an oven proof dish for 20 minutes at 375 for a crispy top.