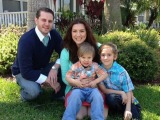 This one's super yummy! Just had it for Easter and normally I'm not a fan of this salad. You'll love it!
Directions
Mix all ingredients together and chill until served.
Most Helpful
I prepped this salad first thing this morning so it could chill and be ready for lunchtime. I used white, pale yellow and orange carrots, pecans only (for this recipe I would recommend either or but not both nuts), golden and flame raisins, less pineapple juice to avoid the salad being waterlogged, and finally a mixture of cream of coconut and homemade mayo. I think macadamia nuts would be a great sub for either nut in keeping it "themed". Served over a bed of spring greens and it was a tasty and easy meal! Prepared for APRIL DELIGHTS in Food Photos' Forum and PAC 2014.

This is one of my DH's favorite salads. I greatly reduced the recipe to make it small family friendly. Other than that didn't change a thing. I will be making this again for sure. Made for PAC Fall 2011.