Caramelized Butternut Squash
gailanng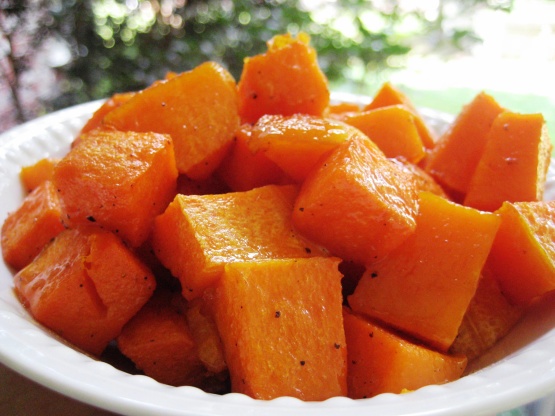 This is a delicious butternut squash recipe from Ina Garten / The Barefoot Contessa. We really enjoy this during the holidays. It is best when the squash is cut in medium to large chunks so that the outside gets a maple-flavored crust, and the inside stays soft and delicious.

This was delicious! Please be aware though, if you have never dealt with butternut squash (like me!), that you should wear plastic gloves when peeling or dicing. The squash made my hands swell and peel like acid had touched them. Apparently this is common with uncooked butternut squash. The recipe turned out great though and I will make it again (with the gloves this time!)
Preheat the oven to 400°F.
Cut off the ends of each butternut squash and discard.
Peel the squash and cut in half lengthwise.
Using a spoon, remove the seeds.
Cut the squash into 1 1/4" to 1 1/2" cubes (large and uniform is best), and place them on a baking sheet.
Add the melted butter, brown sugar, salt and pepper.
With clean hands, toss all of the ingredients together and spread out in a single layer on the baking sheet.
Roast for 45 minutes to 55 minutes, until the squash is tender and the glaze begins to caramelize.
Turn the squash while roasting a few times with a spatula to be sure it browns evenly.
Adjust seasonings if needed.
Serve hot.
Enjoy!