ImPat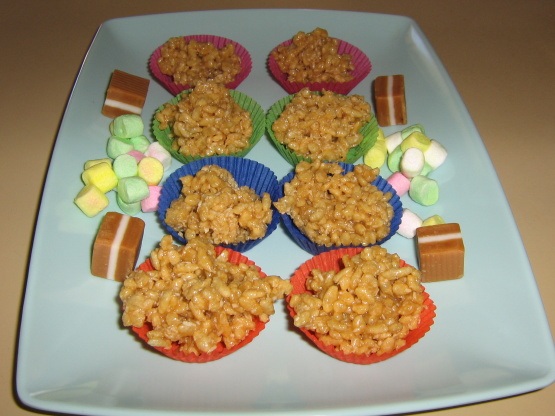 These little gems are soooo good! I found this in my Take 5 ingredients book and had to make them for toddler DD's birthday. The recipe says use white marshmallows but I used a mixed pink & white bag & the crackles had a lovely pink tinge. I think using all pink would be great too especially for a little princess party.

Top Review by ImPat
Took these to the DS's music recreation group where they were devoured in no time flat. I scaled the recipe back to a 1/2 mix but got 23 out of it, though my patty cases were small and held about a heaped dessertspoon in each. Thank you **Mandy**, made for Edition 6 - Make My Recipe, a game of tag.
125

g marshmallows

300

g jersey caramels
1⁄2 cup cream

30

g butter

5

cups rice bubbles or 5 cups Rice Krispies

1

cup shredded coconut
Combine caramels, cream butter & marshmallows in a saucepan, stir over low heat without boiling, until the marshmallows and caramels have melted and the mixture is smooth.
Combine rice bubbles and coconut in a bowl and stir through the melted mixture.
Spoon into patty cases and refrigerate several hours until firm.