Calabacitas -- Mexican-Style Zucchini
rpgaymer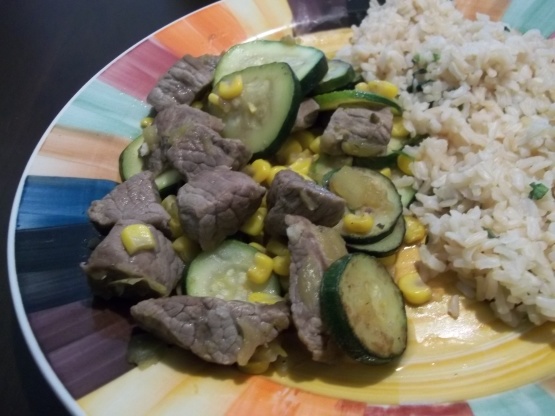 From the Family Circle magazine, ca. 1982.
This was ok. I don't usually cook with red meat, but the combination of ingredients in this recipe sounded interesting. Ultimately, it was a bit bland for me. Maybe marinating the steak in lime juice beforehand would help, but it's still a good recipe overall.
Melt butter in large skillet; add steak cubes, a few at a time and remove to a bowl as they brown.
Saute zucchini until slightly tender, about ten minutes.
Return meat to skillet; add corn, chilies, garlic, salt, oregano and cumin.
Cook, stirring occasionally until meat is tender, about ten minutes.
Add cheese; stir until blended.
Serve while hot.