IngridH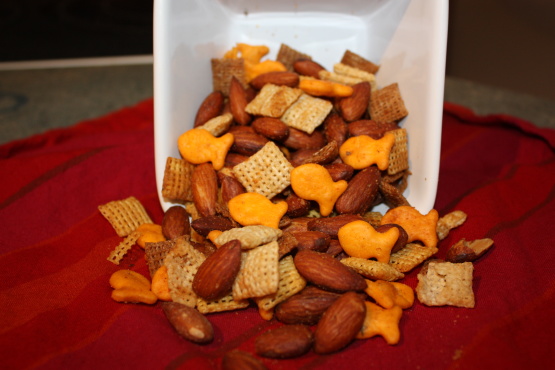 A Chex Mix type party mix with a bit of a Cajun flavor.

This is another really nice version of Chex Mix. I didn't really get either Cajun or Christmas when I tasted it, but it was very good. For a stronger flavor, I'd suggest adding more of the paprika (or use cayenne instead), thyme, and hot sauce. The liquid ingredients are in perfect proportion to the cereal, so I wouldn't change them. The only change I made was to use use butter instead of margarine, as I don't keep margarine in the house.
Preheat oven to 250.
In a large shallow roasting pan combine almonds, cereal, and goldfish.
Melt margarine and mix seasonings inches Pour over cereal mixture and toss to coat.
Bake for one hour, stirring every 20 minutes.