Cajun Chicken-Sausage Pasta
DuChick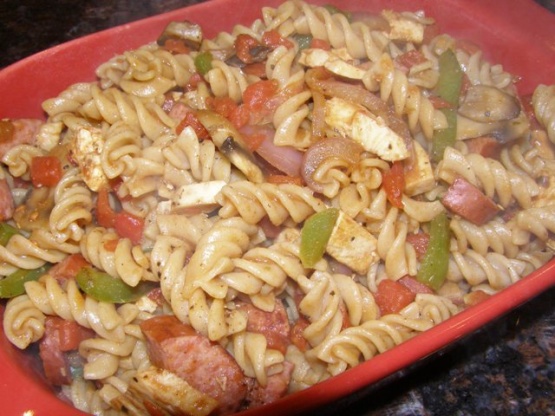 I got this recipe out of the Fast & Easy Weight Watchers cookbook. It doesn't even taste like it's "lite" ANYTHING!! My whole family loves it and it's a request even when extended family comes for a visit.

Great recipe...thought it would be bland because it doesn't call for any sauces but it was excellent and spicy just the way I love it anybody can enjoy this and it definitely does not taste like the usual bland healthy recipe.
Sprinkle chicken strips with cajun seasoning and cook over medium heat for 3-5 minutes in skillet sprayed with cooking spray.
Remove chicken and set aside. Add sausage, mushrooms, onions, and bell peppers to pan and saute for about 5 minutes or until veggies are tender.
Stir in chicken strips and tomatoes and cook until heated through.
Add pasta and toss well.
Sprinkle with fresh ground pepper.