Cabbage and Tomato Chicken Soup
VickyJ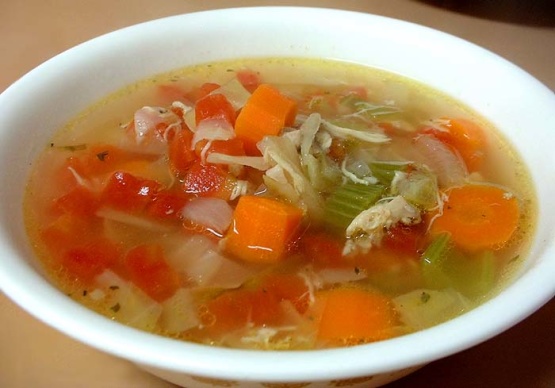 This is posted for the World Tour 2005 RecipeZaar event. I won't have time to try it right away, but it looks wonderful. This kosher recipe is from The Hadassah Jewish Holiday Cookbook - Traditional Recipes from Contemporary Kosher Kitchens - this particular one was contributed by Lori Newberg, Buffalo Hadassah in New York. To make this South Beach friendly, skip step 1, and start with 6 cups fat free chicken broth for step 2; use 4 cups roasted (or rotisserie) chicken or turkey breast for step 3.

This was very nice and light but too bland for us. I added bouillon to make it more flavorful. Other than that, it would have been very good.
Cover chicken with water in a large pot. Cook 1 hour and remove chicken.
Meanwhile, prepare remaining ingredients, and add to pot after removing chicken, and cook for 1 hour.
Meanwhile, place chicken in baking dish and roast it in a 350 F oven for 30 minutes. After roasting, let chicken cool for 10 minutes before removing meat from the carcass and adding the meat to the soup pot.
Simmer until the meat is heated through, and serve.