TGirl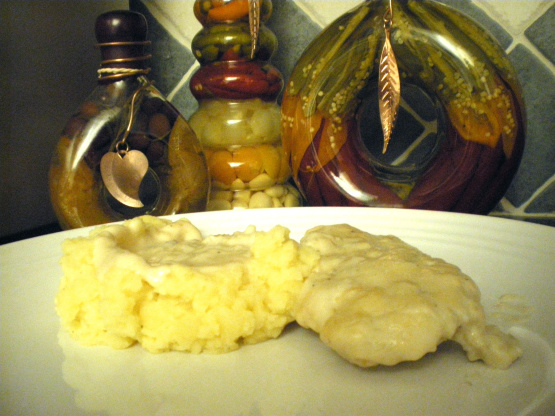 This is one of the easiest, most flavorful chicken recipes. The chicken is extremely tender... but it's the gravy that makes this dish remarkable.

Vicki, I dont know where you originally found this recipe, but it is absolutely wonderful! I don't remember that last time that I tried a chicken recipe that was this easy and this flavorful, moist and delicious! As you said, the gravy truly does make this dish remarkable! I won't let this recipe get far away, trust me on that! I prepared as directed, reducing the temperature to 375 degrees after the first 15 minutes and continued cooking for the remaining 45 minutes at 375. Thank you so much for sharing this recipe with us, Vicki!
Preheat oven to 425 degrees F.
Melt margarine in a 9x13 inch casserole dish or baking pan.
Mix flour, salt, pepper.
Dip chicken in 1/2 cup of Buttermilk.
Dredge chicken in flour mixture.
Place chicken in melted margarine.
Bake for 30 minutes, uncovered.
Turn chicken and bake for 15 minutes.
Mix soup and remaining cup of Buttermilk.
Pour Soup/Buttermilk mixture over chicken.
Bake another 15 minutes, until bubbly.
Take care, if 425 degrees F seems to be too hot, turn oven down a bit to prevent margarine from burning.