Buttermilk, Cheese, Shallots & Potato Scones
diner524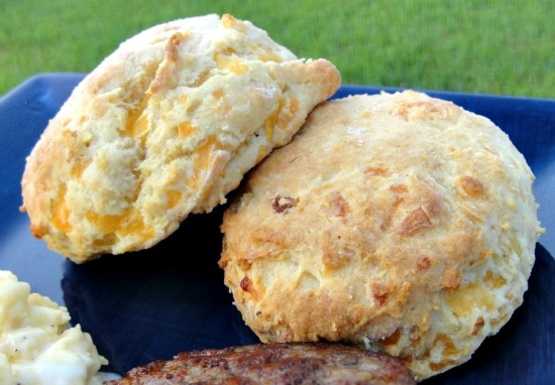 I love tea biscuits and scones and am always on the lookout for something a little different. These savory scones are too die for, they are so good. The flavor, crumb and texture are perfect. This is a great use for leftover mashed potatoes and you only need a 1/2 cup of them. Try them and see for yourself, you will not be disappointed. Update 4/30/15: I just made these again I can't believe that they taste as good as they did the first time. The potatoes and shallots really add an extra depth of flavor to the biscuits. These are wonderful toasted also. Hope you will enjoy!

Top Review by KateL
Mighty fine, I made my first scones! They were different than I expected, but when I checked the definition of "scone", all conditions were met. I loved the savory cheese. I'm glad I didn't obsess, rather I let things roll, and hoped all would turn out. Fortunately, if I had made any errors, no problems surfaced. The night before I had premeasured everything except the shallots, butter, buttermilk and eggs, so all my "cold" things were indeed cold, and the shallots cooled to barely warm before mixing. These were by far the easiest thing to turn out onto a pastry mat, and then reform to use all remaining dough. Thank you Baby Kato for giving me the encouragement in your Recipe Description to try this delicious recipe. Made for Rookie Recipe Tag.
In a small frying pan, melt butter and add shallots, cook on medium low heat until, soft and tender. Remove from pan, cool and set aside until needed.
Preheat oven to 425 degrees F.
In a large bowl stir together flour, baking powder, baking soda, sugar and salt.
Cut in the shortening until it resembles fine bread crumbs, then stir in the cheese, cooled shallots and the mashed potatoes.
Beat the egg and buttermilk together and pour into the flour, cheese and potato mixture all at once, stirring lightly until you have a soft sticky dough.
Add the dough to a lightly floured surface and pat into a large circle about 3/4 to an inch thick. I use a water glass to cut out the dough.
Place the scones on an ungreased cookie sheet and bake in a 425 degree oven for 10 - 12 minutes, until golden brown.