Broccoli Macaroni With Sausage
Parsley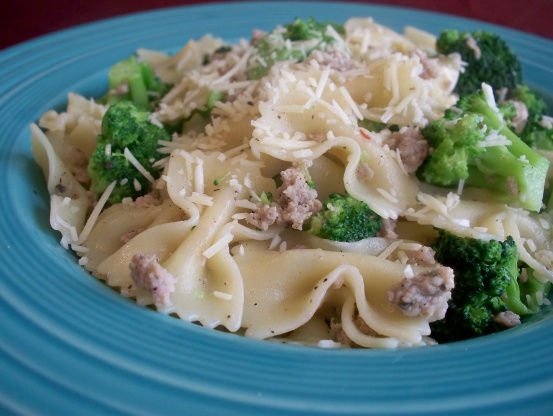 This is an old favorite of my husband's that his family used to make, however, I've lightened it up SIGNIFICANTLY! His mom's recipe used salt lard (ick!) and a lot of oil. I love the taste of the broccoli, the pasta and the hot turkey italian sausage. This is a quick easy, low-fat dish that is very satisfying! Even my kids enjoy this one...I hope you do too! Please adjust the garlic and crushed red peppers to your taste. My family likes lots of both! NOTE: IF YOU ARE NOT A FAN OF HOT TURKEY ITALIAN SAUSAGE - USE REAL HOT ITALIAN SAUSAGE. The true recipe calls for real italian sausage but I find this recipe is just as delicious with a great quality hot turkey italian sausage.

Very yummy! I used 1/2 lb. bow ties and 2 heads of broccoli. I also subbed a 7 oz. ham steak (cubed) for the sausage. Thanks!
In a medium skillet over medium heat, fry sausage in olive oil until no longer pink (I like it dark and crispy!). Add in the garlic and crushed red pepper and sautee' until lightly golden. Drain and set aside.
Bring a large pot of water to a boil. Add pasta and cook for 8 to 10 minutes or until al dente. Drain.
Meanwhile, steam the broccoli until tender and reserve the broccoli steaming water.
Mix all ingredients together and add the broccoli water until you reach your desired level of moistness in the pasta.
Season with salt and pepper.
Serve with parmesan cheese on top.