Derf2440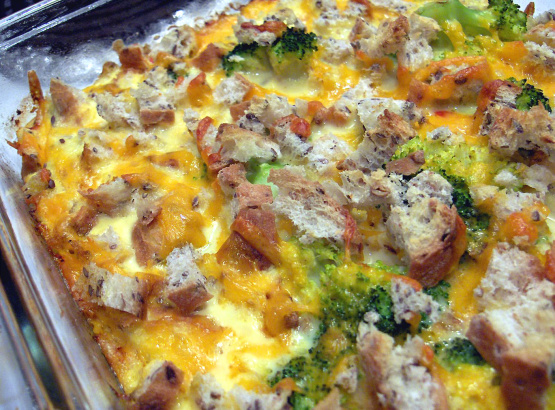 I enjoyed this comforting dish with a baked chicken breast and a salad but it would also be good with some nice bread.

Friedel, this is such a beautiful dish when made with red bell pepper! It is so pretty that it could easily be used to brighten up a holiday dinner table! We enjoyed this very much tonight, as I usually simply steam our broccoli. What a delightful change of pace! I used regular bread crumbs to mix with the cheese for the topping. Thank you so much, Friedel for posting this wonderful recipe!
Preheat oven to 350°F.
Put broccoli and pepper into a saucepan, add 3/4 cup water and most of butter.
Simmer for 5 minutes or until broccoli is just tender.
Use remaining butter to grease a casserole dish.
Whisk the eggs and milk in the casserole dish and mix in 3/4 of the cheese.
Season with salt and pepper to taste.
Stir in broccoli and peppers with 1 spoonful of its cooking juice.
Blitz the bread to make crumbs and then mix crumbs with remaining cheese.
Sprinkle over the top.
Bake for around 20 minutes or until the dish has set and the top is golden.