This is great. They serve it at the factory where I work every now and then. I hear that some people call bologna "North Carolina Steak". This is a great burger!
1 hamburger bun (toasted or grilled)
1⁄2 green pepper (sliced thin)
1⁄2 small onion (sliced thin)
2 tablespoons margarine (or oil)
salt and pepper (or seasonings of choice)
1 slice bologna (thick)
1 tablespoon mustard
1 slice cheese (optional)
Directions
Sauté green pepper and onion in butter with seasonings of choice.
Remove to a plate.
Fry bologna in the greased pan to brown on both sides.
Add cheese to top if you want it.
Put mustard on prepared bun.
Add bologna.
Top with green peppers and onions.
Most Helpful
When I told DH what we were having for supper tonight, he looked at me and said, "Are we seriously that strapped for cash?" I assured him we weren't, but that I just thought it sounded like a creative way to fix a cheaper 'cut' of meat. (I am trying to learn to stretch our budget a little further) After supper, we were both impressed with the outcome. Who knew cheap "mystery meat" could be dressed up to taste great?! I think this would work really well with the thin sliced bologna in a tortilla wrap sandwich. Then the peppers and onions would stay put better, too!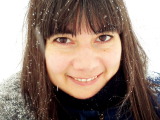 I can't help but wonder if you aren't from Ohio. I heard about this sandwich from the One tank road show. There is suppose to be a restaurant in southern Ohio that serves this as a signature sandwich. I have made this for my family as a novelty meal. And we all liked it pretty well. We made it with mustard, onion, and dill pickle slices. on Kaiser buns. Simply known as fried bologna sandwichs along with french fries. Good old fashion drive-in restaurant food. Thanks for reminding me of this one. Will make this again.

I am in a bologna heaven! I could eat this sandwich every day. I had it on the list to try for a while and when I picked Chef Mommie for PAC 06' I knew I had to make this recipe. Wonderful and delicious. I used toasted Italian roll and also melted a slice of provolone cheese over the bologna. Yummmmmm!!!! Thank you Chef Mommie! This is a keeper.