Asha1126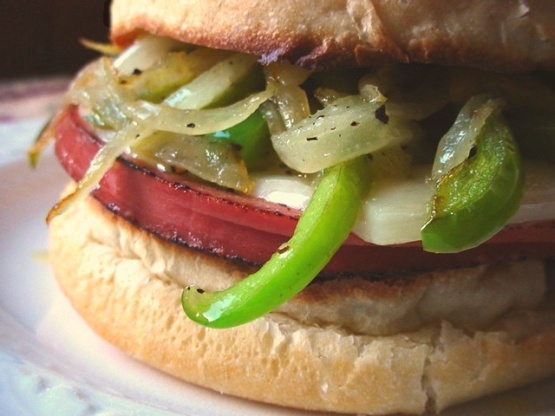 This is great. They serve it at the factory where I work every now and then. I hear that some people call bologna "North Carolina Steak". This is a great burger!

When I told DH what we were having for supper tonight, he looked at me and said, "Are we seriously that strapped for cash?" I assured him we weren't, but that I just thought it sounded like a creative way to fix a cheaper 'cut' of meat. (I am trying to learn to stretch our budget a little further) After supper, we were both impressed with the outcome. Who knew cheap "mystery meat" could be dressed up to taste great?! I think this would work really well with the thin sliced bologna in a tortilla wrap sandwich. Then the peppers and onions would stay put better, too!
1

hamburger bun (toasted or grilled)
1⁄2 green pepper (sliced thin)
1⁄2 small onion (sliced thin)

2

tablespoons margarine (or oil)
salt and pepper (or seasonings of choice)

1

slice bologna (thick)

1

tablespoon mustard

1

slice cheese (optional)
Sauté green pepper and onion in butter with seasonings of choice.
Remove to a plate.
Fry bologna in the greased pan to brown on both sides.
Add cheese to top if you want it.
Put mustard on prepared bun.
Add bologna.
Top with green peppers and onions.