Dorel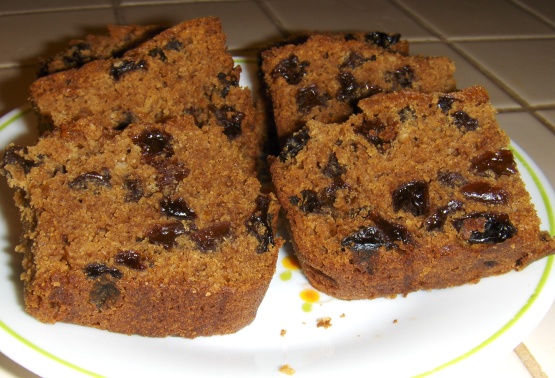 This recipe was in a box of loose recipes I'd cut out of magazines and newspapers. I'm posting it here so it won't get lost. See NOTE at bottom of recipe if you don't have pastry flour. UPDATE-- Made this today. It didn't rise much, maybe it's not supposed too. I did use pastry flour. The flavor is wonderful. I dropped the salt down to 1/2 teaspoon, and used butter instead of shortening. There's less than 1/2 left it was so tasty.

I love this type of cake but difficult to find one with the right texture. I did try this with all purpose flour and did not like the end result so next time I will search for pastry flour or try your subtitute. Also, 1 c. of sugar is too sweet (at least for our taste buds) and it can be cut back by a half if you choose. Looking forward to trying the proper flour because I know that will make a big difference. Perhaps this review will help someone else.
In saucepan. place raisins, brown sugar, hot water, shortening, salt, cinnamon, nutmeg, and cloves.
Bring mixture to boiling point, cover and let simmer for 6 minutes.
Cool to lukewarm and add vanilla.
Add soda to flour and mix.
Combine flour and raisin mixture well.
Bake in buttered 9X5" loaf pan in 325° oven for 1-1 1/4 hours. Cool in pan.
This cake improves with keeping.
-------------------------------------.
NOTE--It can be a challenge to find pastry flour. Even well-stocked supermarkets seldom carry more varieties than cake flour, all-purpose flour (9% to 12% protein), and bread flour. If you can't find pastry flour, you can mix your own by combining cake flour and all-purpose flour in a ratio somewhere between two parts cake flour to one part all-purpose and one part cake flour to one part all-purpose.