Blueberry Friendship Bread or Bundt Cake (Coffeecake)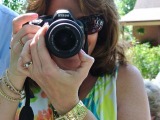 Another way to use your Amish Friendship Bread Starter. If you don't have starter, use Amish Friendship Bread and Starter to start the process. You can add a simple glaze of 1/2 cup confectioner's sugar mixed with 1-2 Tbls. of milk, or you can leave it plain. Can be used as a dessert or coffeecake. In response to the 1-star reviews: I'm not sure why people are having problems with the recipe. It is just an adaptation of Friendship Bread (with pudding). I've made it numerous times without any problems (as you can see in the photos). There isn't any added sugar because the sugar is in the starter.
Directions
Preheat oven to 325°F Lightly grease two loaf pans or a Bundt pan.
Combine all ingredients, except blueberries, mixing thoroughly. Gently fold in blueberries. Pour into prepared pan(s).
For loaf pans, bake 35-40 minutes or until test done with a toothpick. For Bundt pan, bake 60 minutes. or until test done.