Calee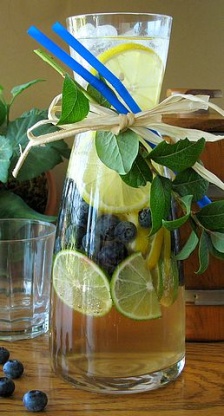 This easy-to-make flavored ginger ale showcases blueberries, but also includes lemon, lime, and ginger. The longer the berries are in the ginger ale, the more they infuse the drink with flavor and color.

What a delicious refreshing drink. It was gorgeous on a hot sunny day.
Divide one bottle of the ginger ale between two half-gallon jars or pitchers.
Add 1/2 cup of the berries, half the lemon slices, half the lime slices and 1 tablespoon of the ginger to each jar.
Cover and refrigerate for 2 to 24 hours (If chilling more than 2 hours, add the lemon and lime slices only 1 to 2 hours before serving, citrus adds a slightly bitter flavor after 2 hours.).
Just before serving, fill jars with ice.
To serve, fill each glass half full with the blueberry mixture and ice; fill glass with chilled ginger ale for fizz.