BLT With Smoked Bacon, Beefsteak Tomato, Arugula and Lemon Aioli
Rita1652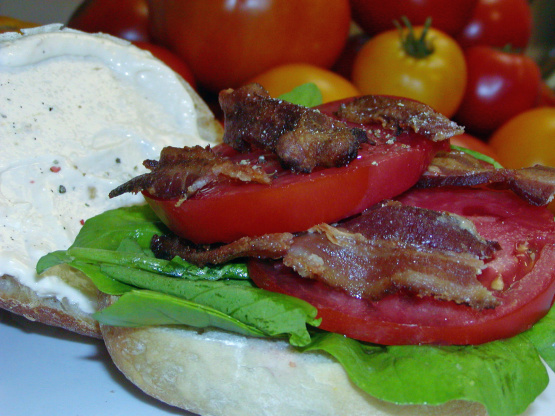 Big name for a sandwich! I got this from The Panera Bread Cookbook, the original called for apple-wood smoked bacon but I just had regular smoked bacon and it was terrific. I loved the very easy to make lemon aioli in this sandwich, it gives it a nice twang.

A wonderful twist on a classic. I also skipped the the butter to cut few calories. Thank you so much for sharing.
Spread butter very thinly on one side of all 4 slices of bread and toast till golden brown.
Cook the bacon in a skillet over medium heat till it's crisp, about 4-6 minutes and drain on paper towels.
To make the aioli, whisk the mayo and lemon juice together and season with salt and pepper.
Spread the aioli on the buttered side of all the bread slices, top 2 of the slices with arugula, tomato and bacon and then place remaining two slices, aioli side down, on the 2 sandwiches.
Cut in half and serve.